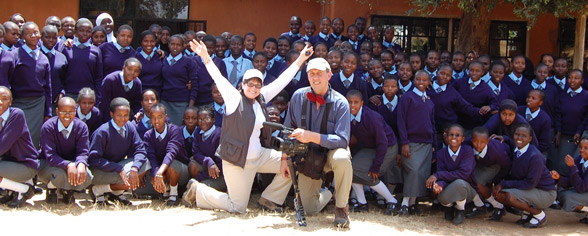 Out of The Blue Films, Inc. is an Emmy Award-winning documentary nonprofit dedicated to exceptional storytelling that explores, articulates, and celebrates humanity.
Designated a 501(c)(3) for public service through the artistry of film, we have received financial support from the following for our groundbreaking films on spirituality, justice, journalism, LGBTQ equality, girls' education, race relations, HIV/Aids, creativity, music, and women's rights:
Mary Catherine Bunting, Ellen DeGeneres, Do A Little Foundation, Jane Fonda, Tom Fontana, Ford Foundation, Andrew Goodman Foundation, Agnes Gund, John S. & James L. Knight Foundation, N. Peter Hamilton, Moby, Bill Moyers, Deborah Santana, Susan Sarandon, Sexton Foundation, Trudie Styler, van Ameringen Foundation, Whitehead Foundation, and many more.
Out of The Blue Films, Inc. is run by founder Barbara Rick, an accomplished filmmaker, writer, and journalist with more than twenty years experience in award-winning documentary filmmaking and television news.
The Out of The Blue Films Board of Directors and Advisory Board include leading philanthropists, journalists, filmmakers, and media professionals.